So far I've remained relatively aloof from the whole "eBook" craze. Ordinarily, given my geeky background and borderline insane craving for technology, one would think that I'd be all over these things. The problem is, my love for the written word also extends to a love for the experience of reading a book.
Call me crazy, but I love the smudged thumbs I get from a 3-hour reading session where the real world ceased to exist and it was just me and my alternate reality, lovingly prepared for me by my favorite authors. I love the smell of books and the feel of curling up with a book in a comfortable chair with a ridiculously strong coffee.
Lately, however, after having moved a few thousand pounds of books from an apartment into a house, I'm considering a less analog solution. The big bonus to the eReaders is instant gratification – the shipping time on an eBook is roughly 60 seconds and there is no shipping cost.
The Amazon Kindle 2 is a great device. You can download any book from their roughly 350,000 book large collection. It comes with the ability to get magazines, newspapers, and you can even hit Wikipedia from the device.
Personally, I think the device looks decent, but it doesn't draw me in. It doesn't feel like something that could substitute for my need to curl up in my favorite chair with a good eBook.
Book prices are reasonable and it comes with the usual pile of acoutrements that you would expect from an eReader. The new offering from Barnes and Noble also seems to have the usual amount of goodies that you get with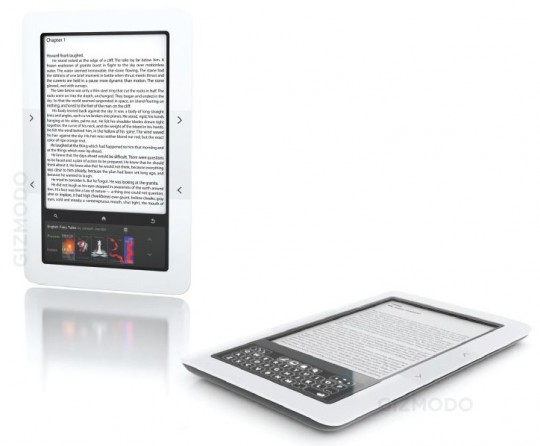 standard eReaders. Of course it uses "e ink". If you're not familiar with this, it isn't the same thing as a computer monitor. You can read eInk in full-on glare and sunlight without a problem, just like a regular printed page. The thing that I find really appealing about the B&N Nook is that they're trying some new innovative stuff. First and foremost is the ability to lend books to your friends. That's right, if you buy a book from your Nook, you can send a lent copy of that book to a friend of yours with any eReader (Nook, iPhone, Windows, Mac, Blackberry, and more) for 14 days of free unlimited reading. This is a really cool feature because I hate how DRM (Digital Rights Management, the encryption technology that protects media) normally inconveniences legitimate owners more than it does pirates.
Another thing the Nook does is when you go into a Barnes and Noble, you can use the Nook to preview the contents of virtually any book in the store over the free in-store WiFi. This is really appealing to me because even if I do take the plunge and get an eReader, I still love the feeling of being in a book store and making my eReader give me bonuses for physically being in a book store is really nice.
Technically speaking, there are very few differences. The Nook has a second touch-screen that is full color that lets you browse content by book cover whereas the Kindle has nothing like that. The Nook weighs a couple ounces more and has 10 days of battery life whereas the Kindle has 14. Kindle is $279 and the Nook is $259.
From a writer's standpoint, there are intriguing possibilities for eReaders of all kinds. I would like to see this technology used to shorten the life cycle between when the final manuscript is finished and when readers get a copy of the book. Safari, a website for computer programming books, does this already – you can see the contents of a book well before it is published and then purchase the print copy for a discount. I'd also like to be able to bring my eReader (say, my Nook) into a public library and be able to take out library books by putting them on my eReader and then the book just disappears after the 2-week take-out period.
To make a long story short, I'm leaning toward the Nook this holiday season both as a gift for my wife and possibly to get one for myself. It just looks cooler than the Kindle, B&N is offering 1,000,000 books to Kindle's 350,000, and anything that gives me more reason to hang out in the in-store Starbucks and browse book catalogs is a huge bonus.